(For latest postings see below)
It is officially carnival time! The World Cup is in full swing and we couldn't have imagined a better, more festive atmosphere. A hearty welcome to our readers and guests. Enjoy the entries listed here and at Atlantic Review and feel free to participate in the online conversation taking place. (Note that this posting will remain at the top of our site for some time while new postings appear just beneath it.)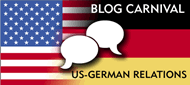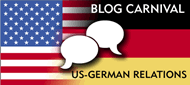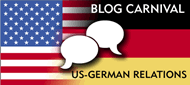 Just a word: The postings below represent various viewpoints on German-American relations. We may or may not agree with the views expressed. The point of the carnival is to bring Germans and Americans together and provide a space to promote transatlantic friendship and understanding. Some of the articles will be in English and others in German. Please feel free to comment on any or all articles or the general state of German-American relations. Last but not least, we want to thank the authors for taking the time and effort to write and submit their work.
And now the selected entries (all entries are available at Atlantic Review):
Pigilito says...German pride that surprises:

The title of a recent IHT opinion piece says it all. Germans always took pride in the quality of their craftmanship, but it was a rare German who would admit to national pride. And that pride was always about some aspect of Germany, not its flag or people. Well, the World Cup seems to be the event where everyone sits up and notices that Germans are again happy to be identified as Germans. (more)

Atlantic Review...Contrasting Perspectives and Failing to Win Hearts and Minds:

Having read the coverage of the EU-US summit in several U.S. and German papers, I got the impression that the German papers focus on the lack of concrete results, while pointing out that President Bush wants to close Gitmo, is more supportive of EU policies on Israel/Palestine, Iran, and on the environment. The U.S. papers, however, focused on the dialogue between President Bush and the European press.
According to the Voice of America, one journalist asked President Bush the inaccurate question why Europeans perceive America to be the greatest threat to global stability. And Raimund Loew, of Austrian Radio and TV, added: "So my question to you is, why do you think you have failed so badly to convince Europeans to win their hearts and minds?" President Bush responded: (more)

Davids Medienkritik...Euphoria at SPIEGEL ONLINE: "The End of the Stereotypes":

Germany is loving the World Cup and the usually pessimistic German media can't help but succumb to the euphoria. SPIEGEL ONLINE is no exception. The magazine was so overwhelmed by the positive fussball-vibes that it recently ran a feature headline declaring that the World Cup had helped "end stereotypes" against Germans.

According to the article, the perceptions of Germans as pessimistic complainers or humorless control freaks are wilting beneath the bright lights of soccer stadiums and festive beer gardens. Even the Brits and the Dutch are convinced: Germans are a hospitable, enthusiastic, downright wonderful folk, not the ugly semi-Nazi krauts that they always imagined their neighbors to be. (more)

Prose before Hos...Germany: Towards A New Role and Renewed Relations:

The national conscious of the Nazi atrocities in German memory has led to cautiousness towards conflict in the German public and government. While this position is a natural reaction and in many respects noble, it has unfortunately decreased Germany's ability and consequent role to be an international peacekeeper and decision maker. Indeed, Germany's relations with traditional powers such as the United States and Great Britain have undoubtedly been affected by the apprehension associated with German worldwide involvement. In order to sufficiently repair important diplomatic relationships and raise its role as a purveyor of social democracy, Germany must engage in a plan to increase militarization with the appropriate adjustment of political stance to encourage public opinion towards proactive international contributions. (more)

Politically Incorrect...Monster Bush hat wieder zugeschlagen:

Zunächst einmal haben die Amerikaner keine "Daten abgefischt" oder "Quellen angezapft", was natürlich wie heimlich ausspioniert klingen soll, weil die Bush-Regierung sich von allen Standards verabschiedet hätte, die sie vorgibt, verteidigen zu wollen, sondern haben sich diese mit Wissen der Europäischen Zentralbank übermitteln lassen. Und das Ganze passierte eben nicht unter Umgehung von sondern auf Grundlage des Gesetzes zu auswärtigen wirtschaftlichen Krisen von 1978, welches den Präsidenten ausdrücklich ermächtigt, Eingriffe und Überwachungen im Zahlungsverkehr anzuordnen. Eine gerichtliche Genehmigung ist ausdrücklich nicht nötig. Kister stört das aber nicht, er holt begeistert zum Rundumschlag aus: (weiter lesen)

Thomas Matterne...Wer solche Freunde hat:

... muss seinen Feinden nicht noch selbst Material bieten. Die USA hatten es schon immer schwer, für die Linke waren sie stets Feindbild Nummer 1 und seit George W. Bush im Weißen Haus sitzt, hat sich dieses Bild scheinbar auf die überwiegende Mehrheit der Deutschen übertragen. Eine objektive Diskussion ist längst nicht mehr möglich, zu festgefahren sind die Positionen. Auch die deutschen Medien scheinen sich in einer kritisch bis anti-amerikanischen Stimmung zu befinden, kaum jemand zierte in den letzten Jahren in einer clowneskenhafteren Form Titelbild von Spiegel & Co. als ein George W. Busch - hochstilisiert zum neuen Feindbild schlechthin. Doch wo wenn nicht im Internet bildete sich eine Gegenfront zu der als einseitig empfundenen Berichterstattung. (weiter lesen)

GeistesWelt...gewagter Blick nach Westen:

Wenn ich zusammenfassen sollte, was Amerika für mich bedeutet, dann müßte ich weiter ausholen:

Amerika ist für mich ein Symbol, dass woanders vieles möglich und normal sein kann, was im persönlichen eigenen kulturellen Umkreis absolut undenkbar wäre.

Viele Deutsche waren bei der Besiedlung des Kontinentes mit dabei, fast so viele, dass Deutsch beinah die Amtssprache der Staaten geworden wäre. Hier gilt übrigens auch, was für den Staat Israel gilt: viele Deutsche nutzten die Staatsbildung um ein neues Leben abseits ihrer alten Heimat beginnen zu können. In Israel trifft man noch viele Deutschsprachige und in den USA noch einige, die wissen, dass sie deutscher Abstammung sind. Eigentlich ein schöner Hintergrund, Gemeinsames, aber auch Verschiedenes aneinander zu finden. (weiter lesen)
You can find all of the entries here. Thanks again to everyone who contributed. Comment here.